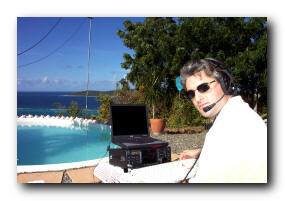 I am Daniel "Danny" Horvat. First licensed in 1981 as member of Amateur Radio Club "Sarajevo" - YU4ALM and was holding YU4WFT and 4N4CX call signs until 1992. I was also a proud member of Electro-Technical University Radio Club "ETF" YU4EXA also known as YZ4Z contest club.
In 1993 became a T93M and thanks to luck and Ham Radio survived the 43 months siege of Sarajevo-capital of Bosnia and Herzegovina, the longest siege in history.
In 1997 thanks to my friends Sharon, KC1YR and Lee, K1GL I moved to Boston area and later to New Hampshire where I got the job at Cushcraft Corporation. I was lucky to be a Ham and work on many amateur and commercial projects. As a design engineer I designed couple of world known amateur antennas: MA5B, R6000, R8, X7...etc.
Stations and call signs I have used: 4N4EXA, 4N9OLY, DL/T93M, E73MMM, FG/T93M, FM/T93M, HB0/T93M, KP2/N4EXA, PJ4/T93M, PJ4J, T93M/HI9, T9A, T9DX, TO3M, YU4ALM, YU4JHI, YU4EXA, YU4ETF, YZ4Z, YZ4M

I was guest op at: A61AJ, KC1YR(@AA1ON), KC1XX, K1CA, K1VR, N4TO, W1CW (also W1YL/K4OJ)